Alder Stream Canvas
Bags, Totes, Cases and Accessories for Home and Trail
Duffle Bags

| | |
| --- | --- |
| Size | Price |
| Small (11" diameter x 24" length) - with leather handles | $92 |
| Large (13" diameter x 30" length) - with leather handles | $110 |
| | |
| | |
| --- | --- |
| | Duffel bags: left to right, 1 and 2. leather handles, 3. leather handles with removable shoulder strap. |
Available in two standard sizes with a removable shoulder strap, these classic duffels with zippered closures are versatile carryalls for camping in all four seasons. You can stow food, clothing, sleeping bags and pads, even axes, saws, and kitchen gear in them. The shoulder strap also makes them handy as carry-on luggage for air travel. Special sizes for use on toboggans or for any other use are available on request.
Handy Carry-on Bag

Carrying around todays space-age downhill ski boots can be quite a chore. This handy boot bag simplifies that chore considerably! This roomy canvas bag makes gear easy to carry with either the handles or the shoulder strap. One zipped side pocket and one side pocket without a zipper are standard features. Now with leather handles!

Carry-on Bag: Price: $155
Tote Bag with leather handles

Available Colors: Forest Green, Maroon, Navy, Gray, Tan. Please specify which two colors you want and how you would like them arranged; for example "Top Gray, Bottom Navy"

Price: $62
This rugged and versatile Tote Bag (above and left) with its six outside pockets and sturdy leather handles will wear like iron and carry just about everything but the kitchen sink. Please specify whether you want short or long handles (see above).

Left: Larry is headed to fill the wood box, while Doryce is off to play tennis!
Wood Tote

Made of heavy canvas and equipped with reinforced leather handles, this long-wearing tote makes a cinch of hauling firewood in from your wood shed to the wood box next to the stove.

Price: $34

Field Bag

Ideal for your bird book and binoculars or as a rugged handbag that can carry heavy items. A classic look with a handy front pocket. Available in tan or olive drab canvas (on the right in the image).

Dimensions: 7"h x 2"d x 9"w

Price: $68

Jumbo Field Bag

A larger version of the Field Bag, this model too is available in olive drab canvas and comes with an adjustable web shoulder strap an closes with a leather strap and buckle with extra pocket outside of the bag. (pictured on the left).

Dimensions: 9"h x 4"d x 12"w

Price: $92

Messenger Bag

The Messenger Bag is available in olive drab canvas secured with 2 Fastex buckles. Dimensions: 12"w x 10"h x 2"depth.

Price: $64
Briefcase

This roomy briefcase comes in olive drab canvas. As practical as it is handsome, it has leather handles and trim, a detachable shoulder strap, zippered closure, and a zippered outside pocket. Inside, it has a divided pocket for papers and smaller compartments for pens, pencils, pocket notebooks, cell phones or snacks (pictured right with Travel Tote).

Dimensions: 12"h x 3"d x 16"w

Price: $122

Travel Tote
Originally designed by a camp director for carrying a spice kit and a repair kit, this very popular and versatile bag is perfect as a toilet kit bag, a travel bag or a tool bag (pictured with Briefcase above).

Price: $36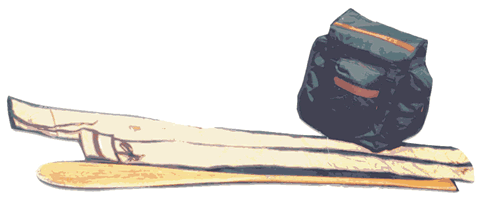 Paddle Cases
Protect your special paddle with one of our paddle cases (above) made of grey canvas and custom-sized to fit any paddle, canoe or kayak, side or narrow, standard or bent shaft. To order, send paddle dimensions including blade width and length, grip width and overall length.

For paddles with blades up to 7" wide:
| Size | Price |
| --- | --- |
| Paddle case for one canoe paddle | $48 |
| Paddle case for two canoe paddles | $54 |
Cases for kayak paddles and for extra-wide and extra-long canoe paddles are custom made to your specifications. Please inquire for prices, which vary according to your required dimensions. Please Email me with questions.